Hans Vermeersch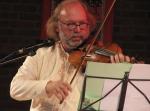 Description:
Hans Vermeersch: violinist, viola and viola d'amore player, composer, arranger and translator of the Rajhans Orchestra and Rajhans Ensemble . Performing Rabindranath Tagore's music with my own created CD's. please check my website http://users.telenet.be/rajhans.orchestra with soundsamples included or have a look on YouTube http://www.youtube.com/user/Tagorehans#g/u some of my musical projects: - the music of R. Tagore & Q. Nazrul - music around th Mahatma Gandhi - european light romantic music on Indian themes - contemporary music based upon Indian and European music traditions

Occupation:

Teacher violin/viola/ensemble

Looking for:

Opportunity for performing with other groups....
Play Music
Future Events
Past Events
Tags
auteure

Arabic

French

Rock

Rai

world musuc

Afro Pop

christian rap

dsds

wqe

test

reggae

Soca

Afro Fusion

Punta

Paranda

Kompa

Zouk

firenze piano duo

pop

world

gospel. jazz. hilife

reggae

jazz

blues

world

Électrique ethnique

hiphop r&b rap

WorldBeat

trance

Classical music

Folklore Music

percussion

1

Gospel

world

world music

world music

World

all

magazine

hip hop

HIPHOP

Kingsben

Dance

rnb

GOSPLE

Indian Classical Music

Reggae

seggae

mauritius

soco

dub

ska

zouk

folk

ethno

balkan gipsy

jazz

Music

CaribbianJazz

Rock

Rap

hip hop

Infinie World

EMO

pop

rap

chanson rock en français

world musik

musica

Hip Hop/Rap

Hip Hop/Rap

Urban World Music

Hip Hop

seangold weeds#1 electro

Ethnic Music

Afro pop

hip hop and Rnb

Hip hop/International

Funky Juju Music

hiphop

Afro soul

r&b

hip hop

World Music

Zimbabwean

Edm music & électro

World Music

International music (Rap & sing)

FLAMENCO

Christian

music

GIPSY KINGS

middle-eastern

world music

world

Afro Hip Hop/RnB

R&B

#HIP-HOP

Rnb dance hall

Hip Hop

rap

hip-hop

R&B

rap

gospel singer

musician

hip hop

pop

rap

Alternative

Indian - Jazz Fusion

jazz

greek

Christian/Gospel

Reggae and R&B and Western Gospel and African Gospel songs. In Faci

I can come up with anything creative anytime

Rap

trap

trap

Reggae

Hip Hop

hip-hop

Gospel

World Music

Dance hall

Calypso

Afrobeat/Dancehall

dance

randb

Pacific Dance Hiphop Ragga mix

RAP

World beat

Native

Tribal

New Age

Dance

Afro Hip

Afro Pop Etc

afro jazz

Acoustic rock

bar rock

southern rock

alternative

hard rock

World

Hausa

regga

gospel and soca

all

Arab Andalusian Sufi Music

Tradicional

Afro pop

World

music promotion

emo rap

dancehall rnb

Middle Eastern

Arabic

jazz

funk

Indian

OP-EAAMUSIC

OPEAAMUSIC

OPEAAMUSICCOLLAB

opeaamusic

opeaamusiccollab

World

Jazz

Beat

Pop

Afro Beat

djembe

jazz-musette

World Music

interprète

Algeria

France

Morocco

North Africa

world music

Nigerian/World

concious music

sdsd

adsa

test

reggae

reggae

World fusion

Merengue

Salsa

Soukouss

fortepiano duo

noella raoelison

franck tchalian

musique du monde

variété

pop

france

madagascar

gospel and rock

iran

persian

iranian

Ésotérique disk0

p33dip p33di

Soul Funk

club

Sufiana Musiqui(Classical music of Kashmir)

Dance and Workshop

kolintang

1

inspirational

avant guard

reggae music

international music

Tamil

all

news

rap

DANCE HALL

Afro hiphop

Rnb/Soul

jmoss

hip pop

christian

naija

ghana

raggea

Indian Violin

Mauritius london music

world music

Song

CaribbianJazz

Drum

pop

influence tzigane

ROCK

rnb

music mots

reggae

musica

R&B

R&B

Progressive

International hip hop

dubstep exclusive

Worlth Music

World pop

chizzyboi

www.datafile.co.za

Gospel fusion & Afro pop

songwriting

stage performance

Afro Jazz

youngatarzs

hip hop

World Music

Reggae

maison disque

Indian Music

song writer and performing artist

JAZZ

Rock

Hip Hop

world

GIPSY KINGS

electronic fusion

mbalax

Raga

Mic Iyke

Tyrese

Musiq Soulchild

Anthony Hamilton

Tank

ROCK-PARTY

reagea music

Rap

rap

hip pop

gospel singer

tag

rap

reggae

afro pop

Acoustic

Bollywood

ethnic

#MarchingOnForever

Night Church Chior

Hip hop

taps

raps

Afrosoul

Rap

R&B

Praise

Meditation

Youngptboy

Soca

Rap/Reggea

vegax

facebooks

value

R/B

#Pagan #Medicine #Mexican #ProgressiveRock #Spiritual #Shamanic

Am Youngptboy

instrumental

Rock n roll

Haiti

raps

cools

all

Flamenco Arab Fusion

Rock

Rnb

Reviewer

music

trap

afro

Middle Eastern

Arabic

jazz

funk

oud

guitar

Indian

Independent DIY Non Corporate Underground

www.jaimancrunk.com

world music

french

Afro